April 23, 2022; doors at 5PM, fights at 6PM
Red Mouse Bar & Grill
3738 Cty Rd P, Cross Plains, WI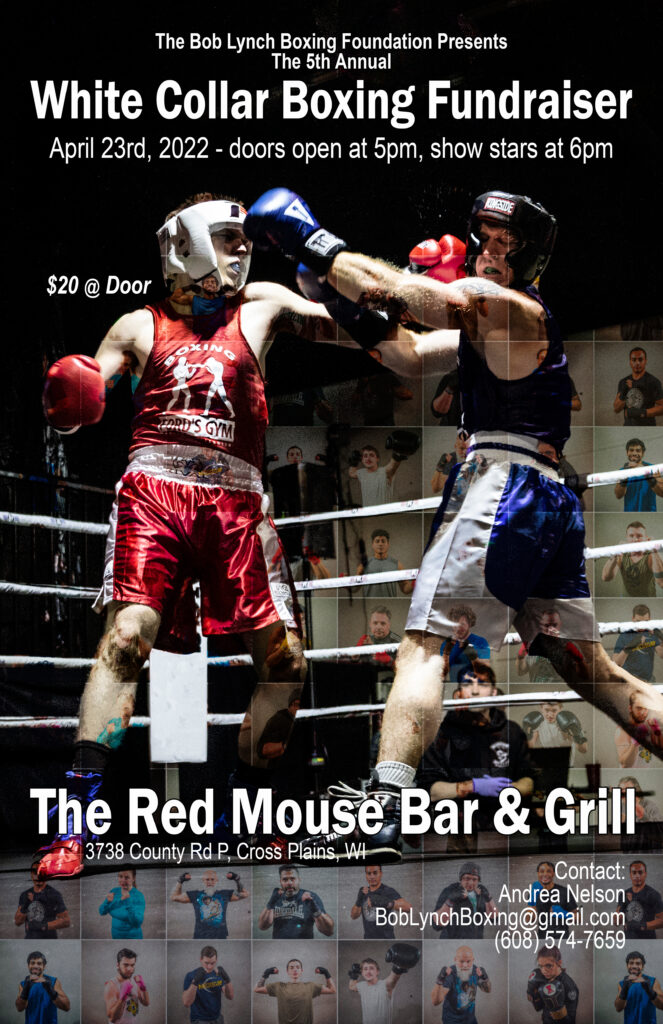 The bell echoes across the boxing ring every 3 minutes at Ford's Gym where fighters of all skill levels are training hard to take their game to the next level. Some are in it for pure fitness, others are Golden Gloves champs and legitimate Olympic hopefuls! But over the next 2 months, you'll find another class of boxer, all new to the sport, training to sharpen their skills in the ring and achieve optimal fitness results. Coached by our foundation's President, Andrea Nelson, they will be matched up evenly for age, weight and experience and square off with their opponents at the 5th Annual White Collar Boxing Event at The Red Mouse in Cross Plains, Wisconsin. For 3 rounds, they'll have their moment in the limelight, staged in front of booming speakers and the thunder of another sell out crowd! Friends, family and coworkers rush in to support this year's largest non-profit fundraiser hosted by the Bob Lynch Boxing Foundation. Help us achieve our financial goals while supporting your favorite boxer of the night! Please donate now and we'll see you under the lights in November! For many, this is a once-in-a-lifetime opportunity. We truly couldn't make this happen without you!
Please join us for Fight Night IV on Saturday, April 23, 2022. The event will be held at the Red Mouse Bar & Grill located at 3738 Cty Rd P, Cross Plains, WI. The doors open at 5:00 PM and the bouts start at 6:00 PM!